KanniesKosmetics Review
In the spirit of trying new things out this month *at the expense of my damn pocket* I have also decided to try a couple of new products from a black owned business called KanniesKosmetics. So what had happened was…I was scrolling through my Instagram as you do, I'm not sure if it was on an ad or someone's page but I saw a couple of their items. They have a range between body soaps and facial scrubs and face soaps and oils and there was a mist as well. I will put a link to their shop below to. This is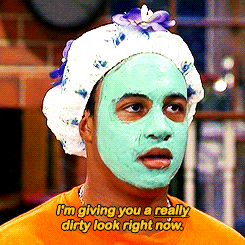 an American business and it probably took about a week to get to me, the only thing that I would say is that I had to spend an extra amount postal fee basically, which threw me off a little, but I did check and there can be charges for soap imports. I believe I have bought different items from different places around the world but its the first time that I have ever had a customs charge, so I would just be aware of that , I'm not to sure if this is the same in other countries.
So I hopped my happy broke ass to the site, I have quite bad pigmentation issues on my body lower stomach region, but it seems to flare up more dramatically when the weather takes a turn. I use turmeric face masks and it actually has helped my face look at least slightly more even, so I decided for my body I would get the Turmeric and Cinnamon Soap and see how that would work out for me over the course of the month, in hoping that it lasts the month.
For my face, I also suffer pigmentation issues but this has calmed down tremendously, but my experimental self decided to get the Lemon Boost face scrub, this has Castor Oil, Coconut Oil, Pure cane Sugar, Lemon oil Cedar Oil and Frankincense. This BANGS, I've only been using this in and out of my usual routine for two weeks and I can honestly 
say that my skin just glows, the scent sort of reminds me of Lemon Meringue pie, if anyone has had that, has a sour sort of taste to it but very sweet. I don't use it every day but I can imagine if I did *I don't want to use it all so soon cause I know I will*, the scrub starts to dissolve and then there is an oily soft feeling residue afterwards. Some people do not like to much oil and some people mind it so it depends on you, it's like if you put oil on your skin and then wash it off it leaves that area soft and you can see it glisten, that's what I feel it does, and pretty much takes out the dead skin cells at the same time.
Thirdly I bought the Acne scars and Dark Spots Serum this has Lemon Grass Essential Oil Bergamot Essential Oil, Moroccan Argan Oil, this smells soooooooooo good, I use this day and night along with my Vitamin C and E oil and my gaawddd, it smells likeeeee heaven, it's the Lemon Grass, it gives you that little umphhh when you going to bed and you smell yourself BANG BANG! Lol For real, granted my cheeks did have dark spots and on my nose, but it was not as bad as it used to be, it has given my skin a shine and I did notice that although I used this alongside another cream which I forget off the top of my head right now but will add on to another post, the mark on the left side of my nose has actually vanished quicker than I was expecting and on the top of my nose bridge, so I can not even complain, I do see a difference on my cheeks, but I still feel that will take more time as there will always be something that ends up developing on my face, environment and what I eat plays a part during that week.
But all in all I think it is a good investment, I will likely buy from them again but just other items to test the waters, I would say that it is slightly a little more expensive but not as much as other products that I have bought from the beauty supply store, atleast I can sit down and say I know what ingredients is actually within the products and they are natural. So it is all gooooooood
Below is a link to their site:
Have a happy Saturday ya'll, 
Khad x 
Skin Care #kannieskosmetics #skincare #soaps #facialscrubs cleanser moisture